When planning a trip to China there will be a million and one things on your to-do list. Whether it's climbing the Great Wall in Beijing, strolling along the Bund in Shanghai or visiting the Terracotta Warriors in Xi'an, there is no shortage of sights to see and places to visit. But amongst all of the sightseeing and touring around, there will come a time when you need a little retail therapy, and where better than at one of China's infamous fake markets?

Often described as "the factory of the world", China has no shortage of consumer products. With luxury brands sky rocketing in popularity in China, vendors are finding more ways to profit from this consumer demand. As a result, 15 to 20 percent of China's goods are counterfeits. The large scale profits and demand for these goods make policing vendors relatively ineffective, allowing counterfeit markets to continue expanding throughout China.
There are countless fake markets in almost every major city with extensive selections of products and luxury brands for just a fraction of the cost you would pay back home. You will lose yourself in the mesmerizing maze of fake merchandise. And if you play your cards right, you can walk away with some great bargains.
SILK MARKET – BEIJING
A multi-story complex in the heart of Beijing's central business district, the Silk Market is probably the most famous market in China. Everything from clothes and shoes to golf equipment and jewelry can be found for sale by hundreds of vendors throughout the massive structure. It even has small cafes and ice cream shops to take a well-deserved break from all the shopping and haggling. As the Silk Market is a very popular tourist destination it makes bargaining here a little more difficult. But if you're savvy and try to throw in a few Chinese phrases, it might pay off in a big way.

HAN CITY – SHANGHAI
Located down the trendy Nanjing Xi Lu, Han City contains everything from luggage and luxury handbags to watches.

The market also offers a large electronics department where you will be able to find the latest in Chinese technology. This market also leans more toward foreigners; it even has a tourist bus drop-off area. But if you make your way up to the upper levels, you will have more luck finding a bargain.
GARMENT WHOLESALE CENTER – GUANGZHOU
This complex is located inside the Guangzhou railway station, and contains many smaller garment and shoe markets within. There are hundreds of shops selling counterfeit goods at wholesale quantities ideal for exporting. Some vendors even offer plain products with attachable brand name labels to try and shirk the authorities. On the surrounding streets you will surely find vendors selling watches and handbags, often in plain sight of the police.
LUOHU COMMERCIAL CENTER – SHENZHEN
A 5-storey fake market located at the border crossing between Shenzhen and Hong Kong, Luo Commercial Center specializes in counterfeit and pirated goods such as clothes, handbags, watches, mobile phones and DVDs. There are plenty of food options, as well as tailors, beauty parlors and foot masseuses. There are many signs warning of the theft of intellectual property put in place by the authorities to act as a deterrent here. But you will still see many local Chinese and Hong Kong residents visiting every day. In fact, a lot of people find themselves crossing over from Hong Kong in search of the famous bargains in the area.
AP PLAZA – SHANGHAI
Located in Pudong's Science and Technology Museum metro station, this market is one of Shanghai's best with over 1,000 stalls.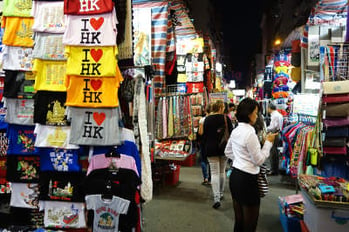 The best things to buy here are sneakers and sunglasses, but there is also a large selection of men's and women's clothing, electronics, shoes and so much more. However, be ready to bargain hard if you're looking for a deal on a watch!
CONCLUSION
If you're in China and looking for a bargain, you can't pass up on these fake markets. They continue to grow in popularity and scale and draw in foreign and Chinese visitors alike. Make sure to avoid getting sucked in by the pushiness and thinly-veiled compliments of the English speaking vendors – haggle with them, push back on their prices and, if possible, throw in a few Chinese phrases. If you still think the price is too high, then walk away. Chances are, the shop next door is selling the exact same item.